Forex Advertising
Banner advertisement is always one of THE MOST EFFECTIVE ways to market your service or just to make people know your brand.
Advertisement banners play a major role in brand awareness when it comes to online marketing.
When you put an ad banner on a website's prominent space, regular readers remember your brand name and start trusting it.
ForexWOT.com receives only HIGH QUALITY targeted traffic, which comes mainly from search engines, social media, and Forex related forums.

As one of the MOST POPULAR trading system websites in the world, our LOYAL VISITORS range from novice to very experienced Forex traders who are interested in everything about foreign exchange and financial trading.
Our constantly updated content keeps a large part of our readers revisiting ForexWOT.com on a daily basis.
Banners information
All banners are static (banners are not rotated with other ads).
Banners format: GIF, PNG, JPEG (Flash banners are not accepted).
We do not work on CPM, CPL, CPA, revenue share, or any similar model.
We are not interested in affiliate programs.
There are only limited number banner ads for Forex advertising available to individuals and companies that I believe are a good fit for my audience.
The limited inventory ensures that exclusivity of your advertising with us and loyalty of our visitors who are not getting annoyed with pesky popups and huge distracting background ads.
We offer the following Forex ad placements:
Forex Ad Placements:
Forex ad placement 1 – Below header & homepage, 1150×200 (–Available–)
Below the header is the best option to establish your brand awareness because it will stay near the content.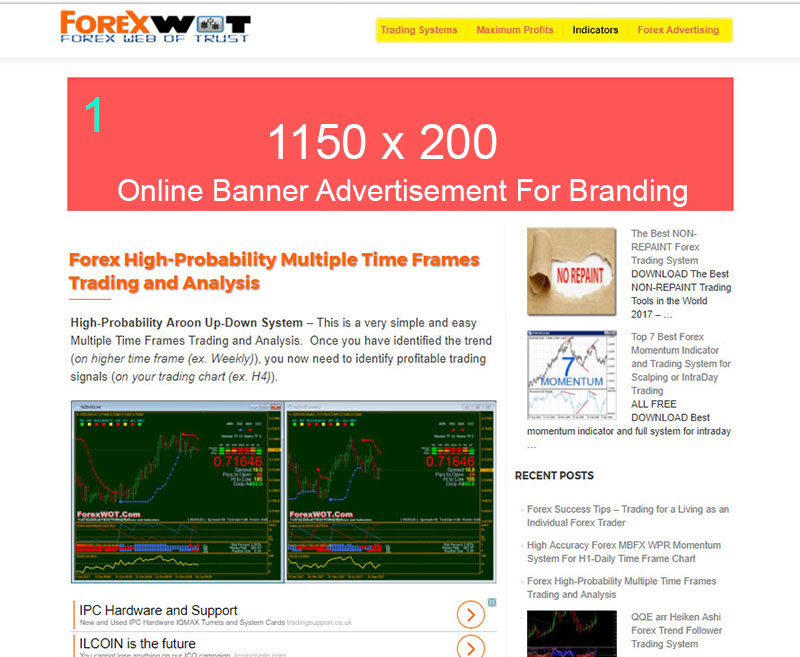 .
and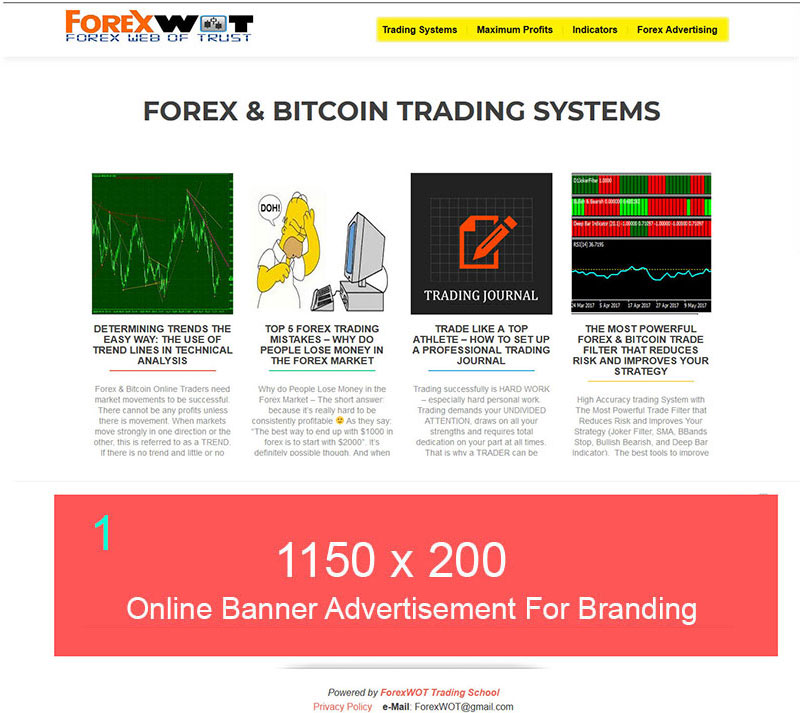 .
.
Forex ad placement 2a – Beginning of post, 800 x 120 (–

Available

–)
Forex ad placement 2b – End of post exactly below the DOWNLOAD Button,  800 x 120 (–

Available

–)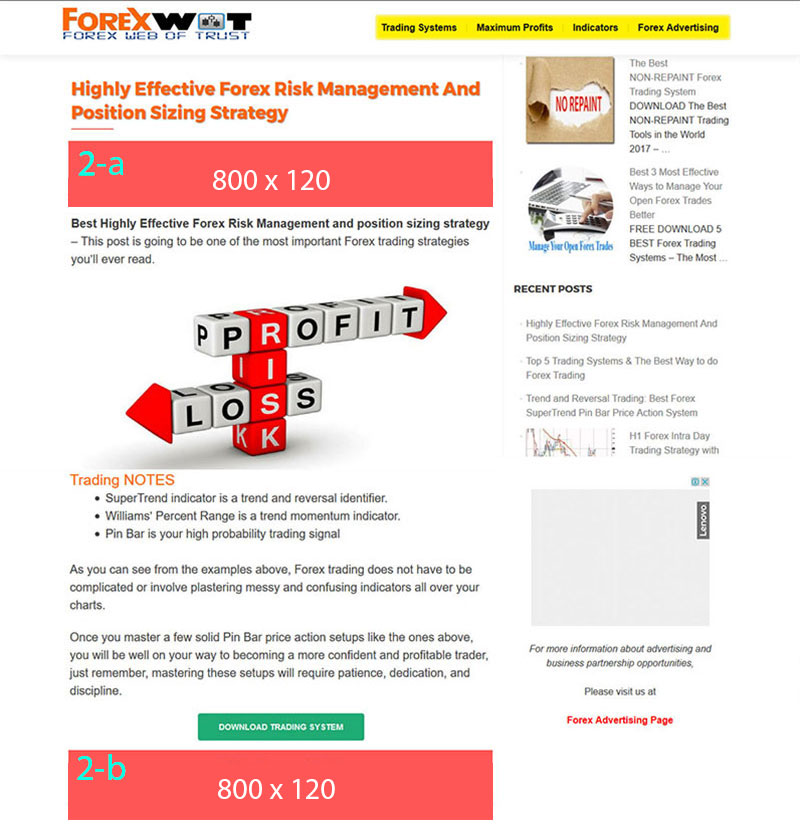 .
.
Forex ad placement 3 – Sidebar, (336 x 350) (–

Booked

–)
Forex ad placement 4 – Sidebar, (336 x 350) (–Available–)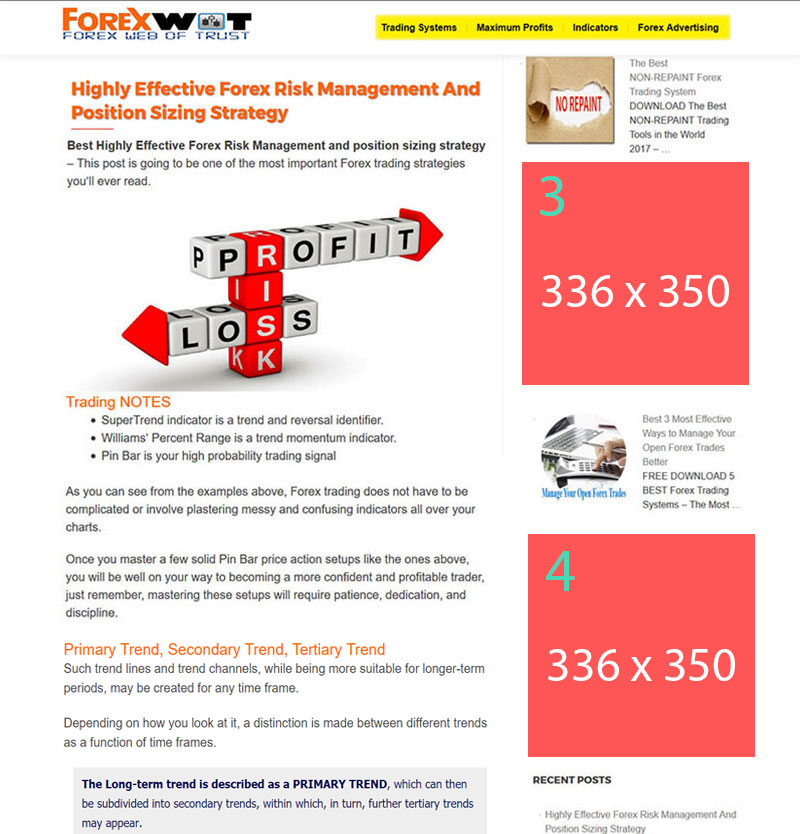 .
.
Forex ad placement 5 – "Sticky" Floating Sidebar, 336 x 500 (–

Booked

–)
A floating element that sticks to visitors screen as they scroll tends to have a higher click through and conversion rate than static objects.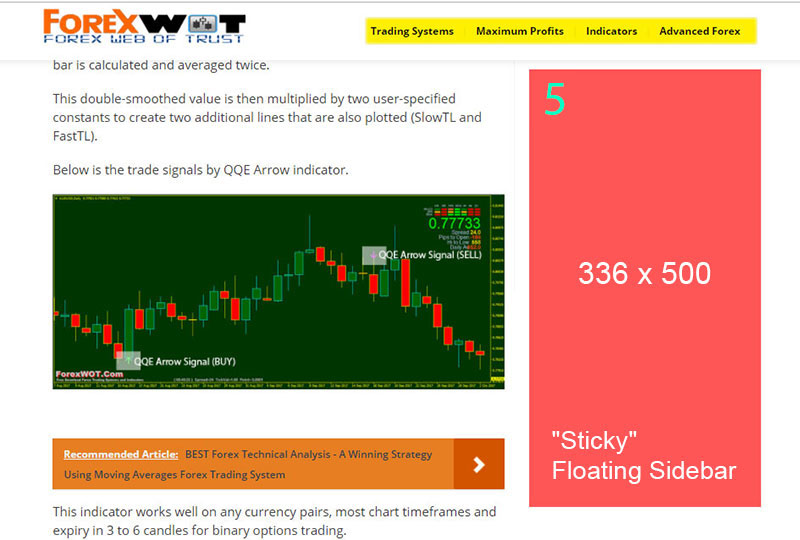 .
.
Additional information
Other banner positions and their rates can be negotiated.
Available methods of paying for the Forex advertising:
All advertisement prices can be changed without any notice.
All ad placements are provided AS IS and no results are guaranteed. If you are not satisfied with the results, the payment WILL NOT be refunded under any circumstances.
Though, we will try to make your advertisement as effective as possible.
If you want to buy Forex advertising on this site, please, contact us at forexwot@gmail.com
All advertising deals should be made only via our email contact

ForexWOT@gmail.com

We do not use Skype or any other instant messengers to discuss advertising!