Forex TrendLine Trading Strategy – ForexWOT Auto Trend ZigZag BUY SELL Trading System with RSI and Trend Candles filter indicators.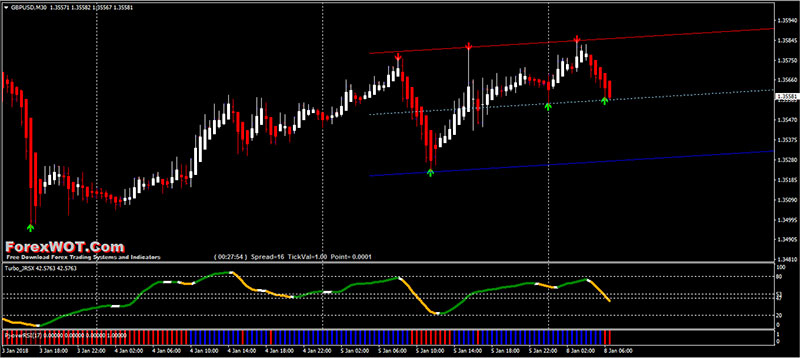 A trendline is probably the most basic tool in the technical trader's toolbox.
They are easy to understand and can be used in combination with any other tools you might already be using.
By definition, a trendline is a line connecting two or more lows or two or more highs, with the lines projected out into the future.
Ideally, traders look at these extended lines and trade on prices reacting around them, either trading a bounce off the trendline.
Some important things to remember using trend lines in Forex trading
It takes at least two tops or bottoms to draw a valid trend line but it takes THREE to confirm a trend line.
The STEEPER the trend line you draw, the less reliable it is going to be and the more likely it will break.
Like horizontal support and resistance levels, trend lines become stronger the more times they are tested.
And most importantly, DO NOT EVER draw trend lines by FORCING them to fit the market. If they do not fit right, then that trend line isn't a valid one!
ForexWOT Auto Trend ZigZag BUY SELL Trading System
The trend is your friend!
This steadfast rule also applies to trading trendlines.
For experienced traders, this basically means we should only look to BUY at BULLISH support lines and SELL at BEARISH resistance lines.
Best Time Frames: M30 and H1
Most Recommended Currency Pairs: GBPUSD, EURUSD
MetaTrader Trading Indicators
Auto TrendLine
ZigZag BUY SELL
Trend Candles
3C Turbo RJSX Filtered
PJ-Over RSI
BUY Rules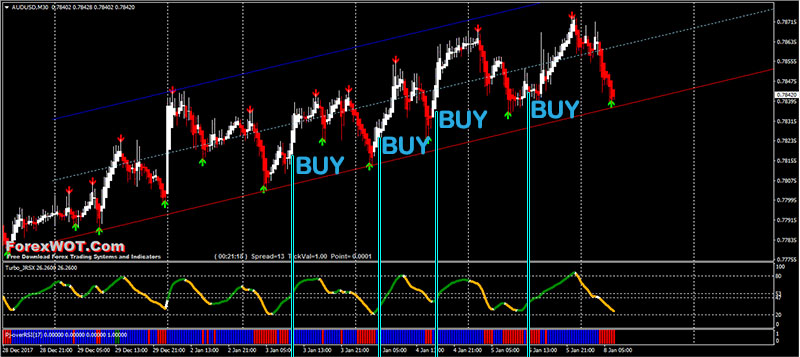 Auto TrendLine upward (BULLISH TrendLine)
ZigZag BUY SELL green color arrow below the previous swing low (at support area)
Trend Candles white color
3C Turbo RJSX Filtered green color line
PJ-Over RSI blue color
SELL Rules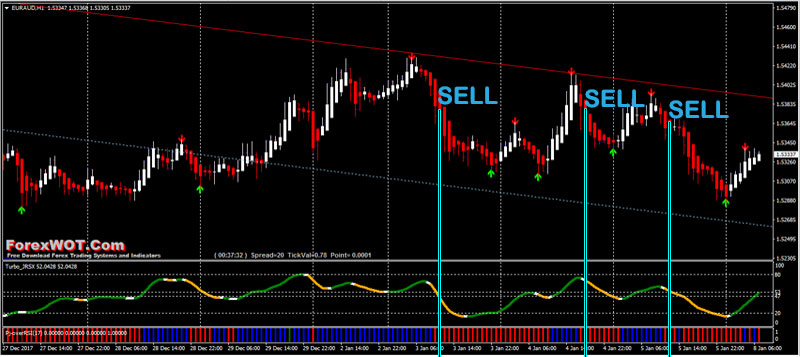 Auto TrendLine downward (BEARISH TrendLine)
ZigZag BUY SELL red color arrow above the previous swing high (at resistance area)
Trend Candles red color
3C Turbo RJSX Filtered yellow color line
PJ-Over RSI red color
Trading NOTES
I like to set my Entry orders several pips ABOVE A SUPPORT trendline or several pips BELOW A RESISTANCE trendline.
That way if the price reacts before getting to the trendline, I still have a chance at getting into a trade.
You have to remember that if there are many traders looking at the same price to act as support/resistance, there is a chance that orders will be stacked around these levels.
If there are enough orders keeping the price from getting to the trendline, the price might not get to your order if it's placed directly on it.