High Accuracy Forex Trend CCI Super Adaptive Parabolic Trading Strategy – Adaptive Parabolic is the dotted line that you can see above and below the market chart. This is very easy, simple, and high accuracy trading strategy.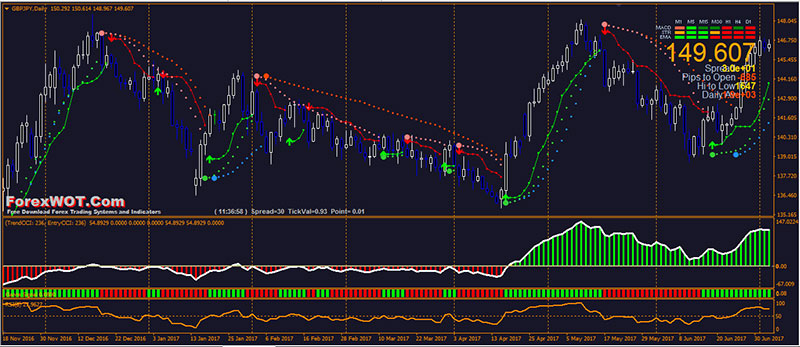 There are two versions of the ADAPTIVE PARABOLIC indicator + Bollinger Band Stop in this trading system.
This indicator is one of the main signal generator indicators of Super Parabolic Trading system.
When the Adaptive parabolic indicator appears above the market price, it's a BUY signal and when the adaptive parabolic indicator appears below the market level, it's a SELL signal.
Trend CCI Indicator
Here is how it works.
The lime bars above or the red bars below the zero line are the True Trend and show if the current trend is up or down.
Any reading of the true trend above the zero line is positive and means an uptrend in the market while any reading below the zero line negative or a down-trending market.
Take a look at the image below.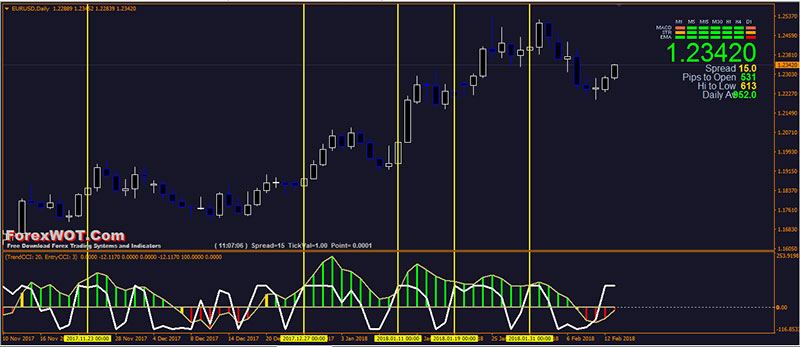 The thin white line is called the EntryCCI.
We use this to show when the price is overbought or oversold against the trend.
We are looking for the EntryCCI to be pulled away opposite to the trend to have a setup and then wait for the price to resume back toward the current trend.
Trend CCI Super Adaptive Parabolic Trading
Forex Trend CCI Super Adaptive Parabolic Trading System is a trend following trading system based on the Adaptive Parabolic indicator and Double CCI indicator.
Best Time Frames: H4 and Daily
Most Recommended Currency Pairs: EUR/CHF, EUR/GBP, EUR/JPY, EUR/USD, GBP/CAD, GBP/JPY, GBP/USD, NZD/USD, USD/CAD, USD/CHF
MetaTrader Trading Indicators
Adaptive Parabolic V2.1
Adaptive Parabolic V2.2
Double CCI Woody
BBand Stop Alert
Signal Trend
Ganns Signal Trend
Relative Strength Index
BUY Rules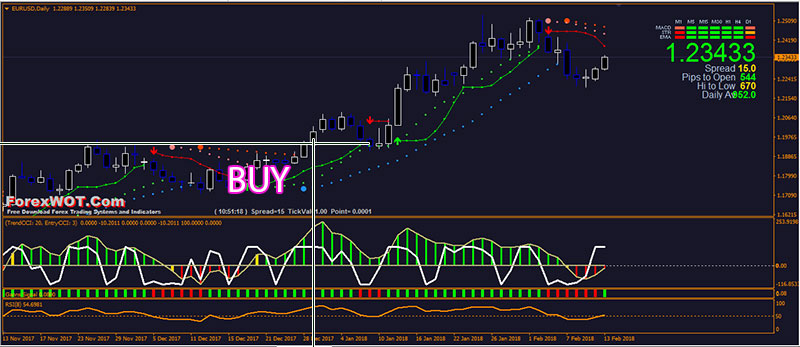 Adaptive Parabolic V2.1 lime color
Adaptive Parabolic V2.2 blue color
BBand Stop Alert lime color
Double CCI Woody lime color bars
Signal Trend green bars
Ganns Signal Trend lime bars
Relative Strength Index upward and above 50
SELL Rules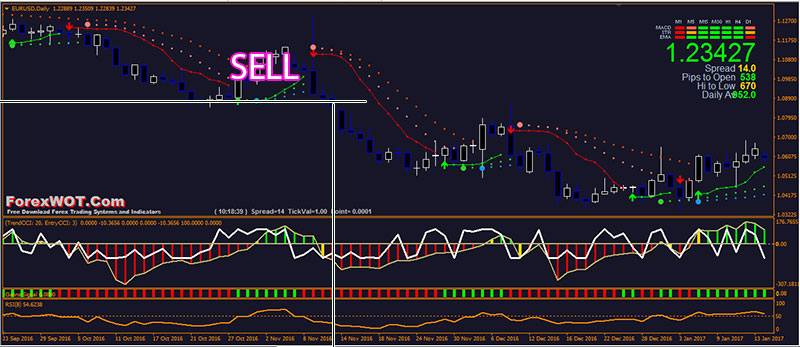 Adaptive Parabolic V2.1 red color
Adaptive Parabolic V2.2 red color
BBand Stop Alert red color
Double CCI Woody red color bars
Signal Trend red bars
Ganns Signal Trend red bars
Relative Strength Index downward and below 50
Trading NOTES
Initial Stop loss on the previous swing, and after 200 pips (for 5 digits broker)  in gain move stop loss at the entry point.
Profit Target predetermined (recommended option).