This is one of the easiest, most powerful and profitable forex trading system & strategy – A simple yet profitable strategy and a plan is the ultimate key to consistent long-term profitability because it allows traders to capitalize on their edge without emotions day in and day out.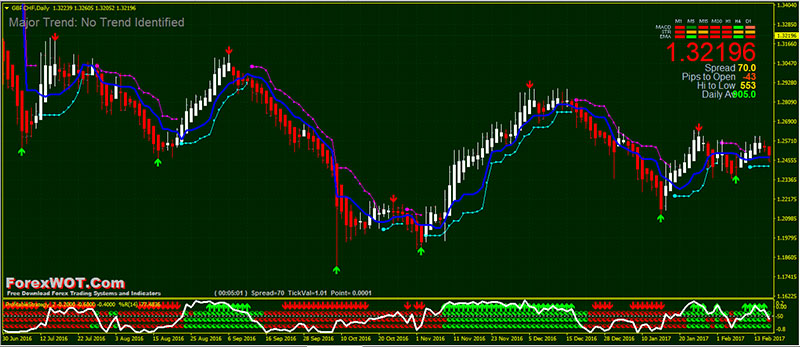 This strategy uses the Tenkan-Sen line, Price Channel Stop, and Heiken Ashi for trend definition purposes.
I decided to share my trading strategy I really hope you'll like and enjoy using it.
This system is till now completely manual, but if somebody wants to create some EA we can talk about it and create it, it will be amazing!
I really can say it's very profitable and it doesn't make you too much stressed cause it refers to 4H chart.
Most Recommended currency pairs are GBPUSD, EURUSD, GBPJPY, GBPCHF, EURGBP, and USDJPY
MetaTrader Trading Indicator
Major Trend Signals
Tenkan-Sen line
Price Channel Stop
Heiken Ashi
Trend Confirmation
WPR
BUY Rules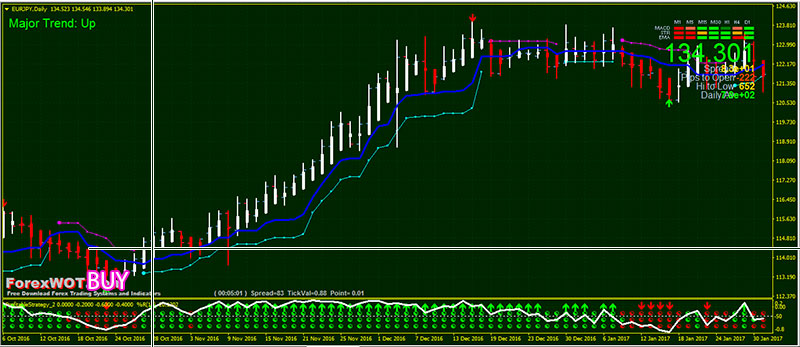 Major Trend Signals: UP (Green color)
Tenkan-Sen line upward and above the Price Channel Stop line
Heiken Ashi candle white color
Trend Confirmation green color
WPR line upward and above -50 level
SELL Rules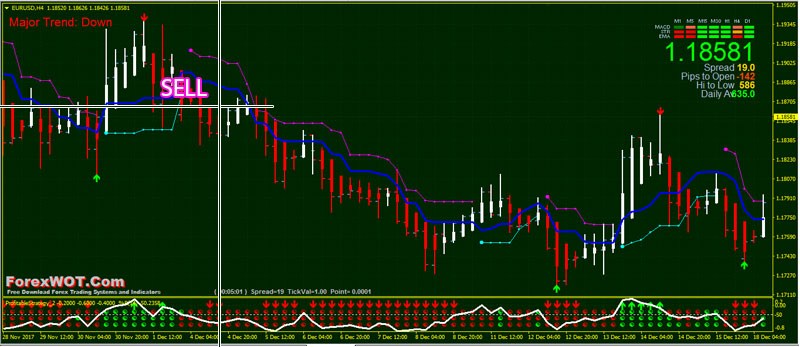 Major Trend Signals: DOWN (Red color)
Tenkan-Sen line downward and below the Price Channel Stop line
Heiken Ashi candle red color
Trend Confirmation red color
WPR line downward and below -50 level
Trading NOTES
This ForexWOT Major Trend System works for all time frames, but the 'Best' Time Frames to Trade are H4 and Daily.
The Power of Trading the Higher Time Frames (H4 and Daily)
How can trading higher time frames improve your forex trading…?
The answer is, when you focus on higher time frames, you naturally spend less time analyzing the market and trying to find trades.
This will work to alleviate a lot of the temptation to trade when you shouldn't and to meddle in your trades while they are live.
Traders who trade intraday all the time and who trade off lower-time-frame charts put themselves at a much higher risk of overtrading and becoming emotional.
So, by simply focusing your efforts on higher time frames like on the four-hour and daily charts, you are going to naturally improve your win-to-loss ratio as a result of both taking less losing trades and becoming less emotional.