FREE DOWNLOAD the best tool to draw TrendLines perfectly and automatically every time.
I'm going to share a secret way that I like to use trendlines to spot potential tops and bottoms in a market, so be sure to read the lesson in its entirety.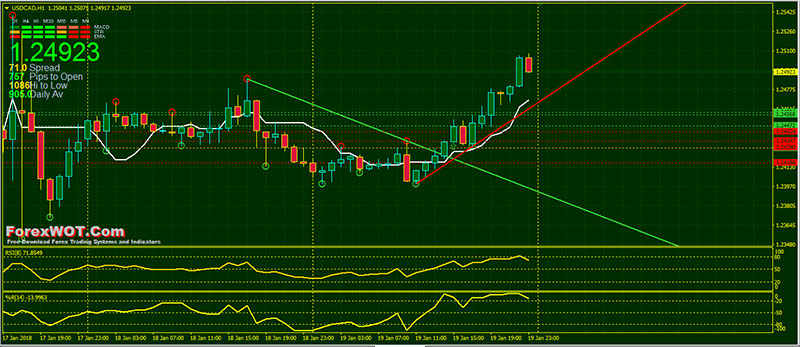 TrendLines are a staple for technical Forex traders that can be used on ANY CURRENCY PAIRS and on ANY TIME FRAMES.
They are easy to understand and can be used in combination with any other tools you might already be using.
By definition, a trendline is a line connecting two or more lows or two or more highs, with the lines projected out into the future.
Ideally, traders look at these extended lines and trade on prices reacting around them, either trading a bounce off the trendline.
How to Draw TrendLines Perfectly
So, what can we do to make sure the trendlines that we've drawn are sound…?
Connect Swing Lows to Swing Lows (or Swing Highs to Swing Highs)
For those unfamiliar with the term swing highs/lows, we simply mean the peaks or FRACTALS.
Once we connect FRACTAL with other FRACTAL, we want to see the line not being broken by any candle between those two points.
Take the examples below.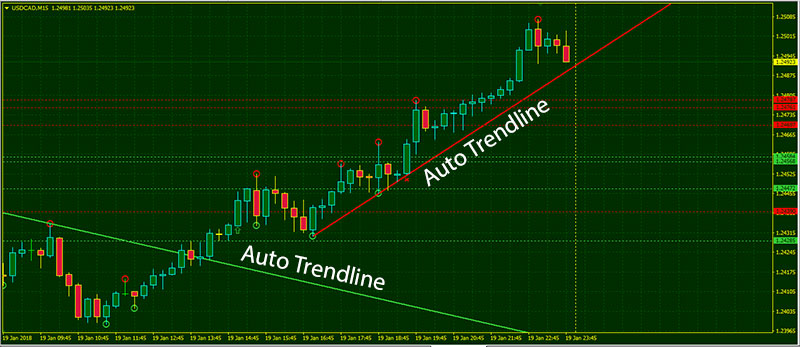 What we see in the image above, two swing lows (fractals) connected together by a line unbroken by price.
This is a VALID TRENDLINE that is ready to be projected out into the future.
ForexWOT Auto Trendline System
We all know that NO TRENDLINE WILL LAST FOREVER.
So this article focuses on "HOW TO TRADE TRENDLINES WHEN THEY BREAK".
Best Timeframes:

H1 for intraday trading
H4 and D1 for short-term swing trading
D1 and W1 for long-term swing trading

Most Recommended Currency Pairs:

EURUSD and GBPUSD for intraday trading
All low and medium spread currency pairs for swing trading
MetaTrader Trading Indicators
Fractals Trendline
Tenkan-Sen Ichimoku Kinko Hyo
RSI Trend Momentum
WPR
Signal trend
BUY Rules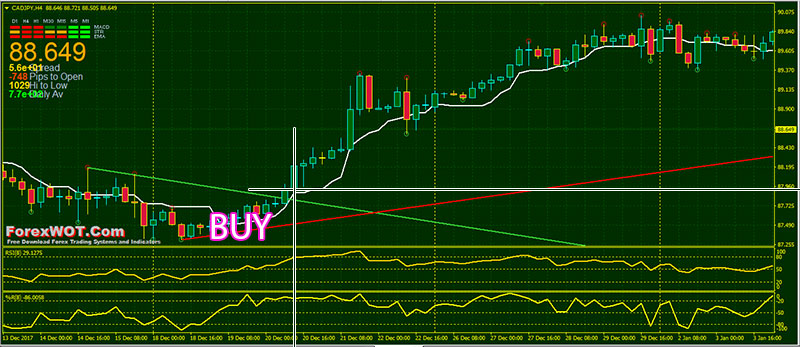 Price break above the green color "resistance" Fractals Trendline indicator
Price above the Tenkan-Sen line
RSI Trend Momentum line upward and above the 50 level
WPR line upward and above the -50 level
Signal trend green color bars
SELL Rules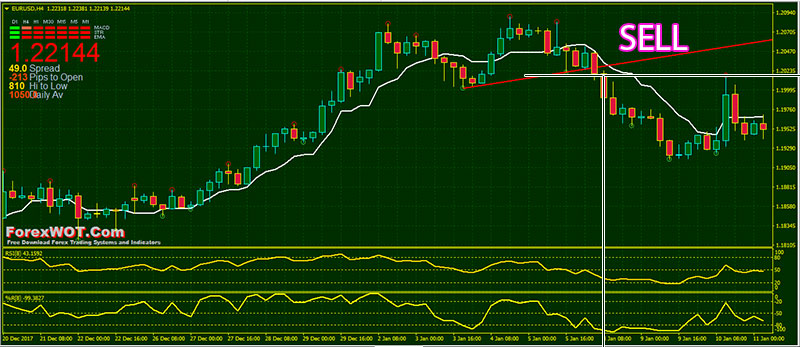 Price break below the red color "support" Fractals Trendline indicator
Price below the Tenkan-Sen line
RSI Trend Momentum line downward and below the 50 level
WPR line upward and below the -50 level
Signal trend red color bars
Trading NOTES
This trendline trading system focuses on the latter.
So we wait to see if the price does, in fact, break through the price.
But we aren't ready to place a trade just because the price breaks through the trendline.
We need to wait and see if the current candle closes beyond the trendline. We require a candle to close beyond the trendline to confirm the breakout. This is a very important rule.